The 52nd annual Dannehower Award Banquet was held on Thursday, May 14, 2015 at Presidential Caterers in Norristown.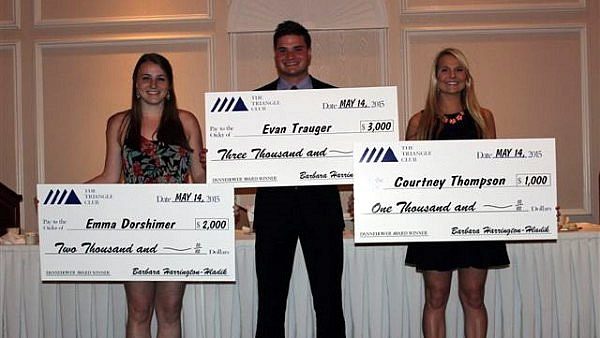 Evan Trauger from Christopher Dock High School won the 2015 Dannehower award and a $3,000 scholarship.  First Runner-up Emma Dorshimer from Jenkintown High School, and Second Runner-up, Courtney Thompson from Pope John Paul II, also received awards and scholarships.
Read more on thetimesherald.com.
2015 William F. Dannehower Award Nominees
Abington High School
Matthew Penecale
Christopher Dock Mennonite High School
Evan Trauger
Country Day School of the Sacred Heart
Celine Dugan
Germantown Academy
Kathryn Lynn Nunes
Jenkintown High School
Emma Dorshimer
LaSalle College High School
Kyle Shurmur
Lower Merion High School
Jonathan Perlman
Lower Moreland High School
Caroline Harmon
Methacton High School
Samantha Michelle Steele
Mt. St. Joseph Academy
Belin Mirabile
Norristown Area High School
Jennifer Kennedy
North Penn High School
Austin Redilla
Perkiomen Valley High School
Yashveer Singh
Plymouth Whitemarsh High School
Rachel Paciello
Pope John Paul II High School
Courtney Thompson
Pottsgrove High School
Patrick Finn
Pottstown High School
Jena Endy
Souderton Area High School
Natalie Bulgier
Springfield Township High School
Molly Fitzpatrick
Spring-Ford High School
Paul Power II
Upper Dublin High School
Bart Scherpbier
Upper Merion Area High School
Eryn Brady
Upper Moreland High School
Josh Abrams
Wissahickon High School
Andrew Ells