The Dannehower Award and Banquet
The Triangle Club's "keystone event" is the Awards Banquet held every May. At that time the club recognizes high school seniors, selected by their schools, for their outstanding accomplishments in athletics, academics, and community service.
Public and private high schools throughout Montgomery County will recommend one senior for the William F. Dannehower Award by submitting the student's application and resume to our selection committee for review. After careful consideration, the committee chooses the Dannehower Award winner as well as a first and second runner up.
The event provides an opportunity to publicize the achievements of these outstanding young men and women. All honorees are accorded individual recognition and their accomplishments read to the audience at the time of the dinner.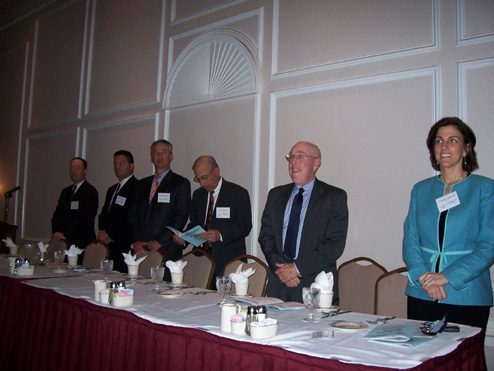 (From left to right): The head table included Geoff Brandon, John Haley III, Paul Kozeniewski, Frank Caiola, Jim Rogers (guest speaker), and Carolyn Tornetta-Carluccio.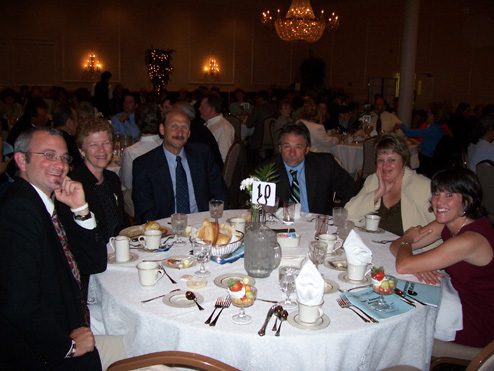 Family and supporters of Perkiomen Valley High School nominee Colleen Valerio (right) were some of the Triangle Club's nearly 250 Dannehower Award Dinner attendees.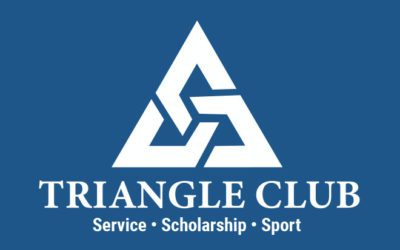 NINETEEN MONTGOMERY COUNTY HIGH SCHOOL SENIORS HONORED WITH SCHOLARSHIPS BY THE TRIANGLE CLUB Excelling in Scholastics, Service and Sports, Deserving Teens Receive $250 awards for their achievementsTalitha Cheng Abington Senior High School Rani Nair Cheltenham High...
read more
Winners from Previous Years
2008
Eliza Jane McDevitt
Germantown Academy
2007
Kaitlyn Dugan
North Penn
2006
Timothy McKeever
North Penn
2005
Phillip Dowzicky
Germantown Academy
2004
Molly Dillon
Cheltenham
2003
Gregory Cass
Methacton
2002
Kirsten Bostrom
Souderton
2001
Peter J. Lynch
Upper Dublin
2000
Thomas Hartman
Lower Merion
1999
Amy Davis
Upper Dublin
1998
William Hackenbracht
Upper Dublin
1997
Catherine Bernstock
Harriton
1996
Lindsay J. Durtan
Plymouth Whitemarsh
1995
Christopher Mellor
Upper Dublin
1994
Jeffery A. Najarian
Methacton
1993
Danial J. Burnett
Perkiomen Valley
1992
Alison M. Cohen
Lower Merion
1991
Donald Vibbert
Methacton
1990
Andrew S. Toburen
Souderton
1989
Phillip J. Braun
Arch Bishop Kennedy
1988
Anne Marie Weidanz
Upper Dublin
1987
J. Gavin Muir
LaSalle
1986
Mark Dianno
Bishop McDevitt
1985
Thomas Gizzi
LaSalle
1984
James Bruni
Methacton
1983
Lisa Thompson
Perkiomen Valley
1982
Joanne Kehs
Perkiomen Valley
1981
Michael Ellow
Bishop Kenrick
1980
Steve Bono
Norristown
1979
Ronald K. Foster
Upper Dublin
1978
Mark S. Pennington
Perkiomen Valley
1978
Christopher J. Moresco
Upper Merion
1977
Albert Wegener
Abington
1976
Douglas Pauls
North Penn
1975
John King
Upper Merion
1974
Rudolph DiMassa
Abington
1973
Greg Eckman
Perkiomen Valley
1972
Glenn Salo
Springfeild
1971
James Flyzik
Lansdale Catholic
1970
Marc Raphaelson
Upper Dublin
1969
Robert Sewart
North Penn
1968
John Ashmore
Wissahickon
1967
Rick Albertson
Plymouth Whitemarsh
1966
Pete Strap
Upper Merion
1966
Bruce Bonney
Norristown
1965
Greg Stagliano
Norristown
1964
John Pergine
Plymouth Whitemarsh