45th ANNUAL TOURNAMENT
– 2018 RECAP –
by: Mike Toth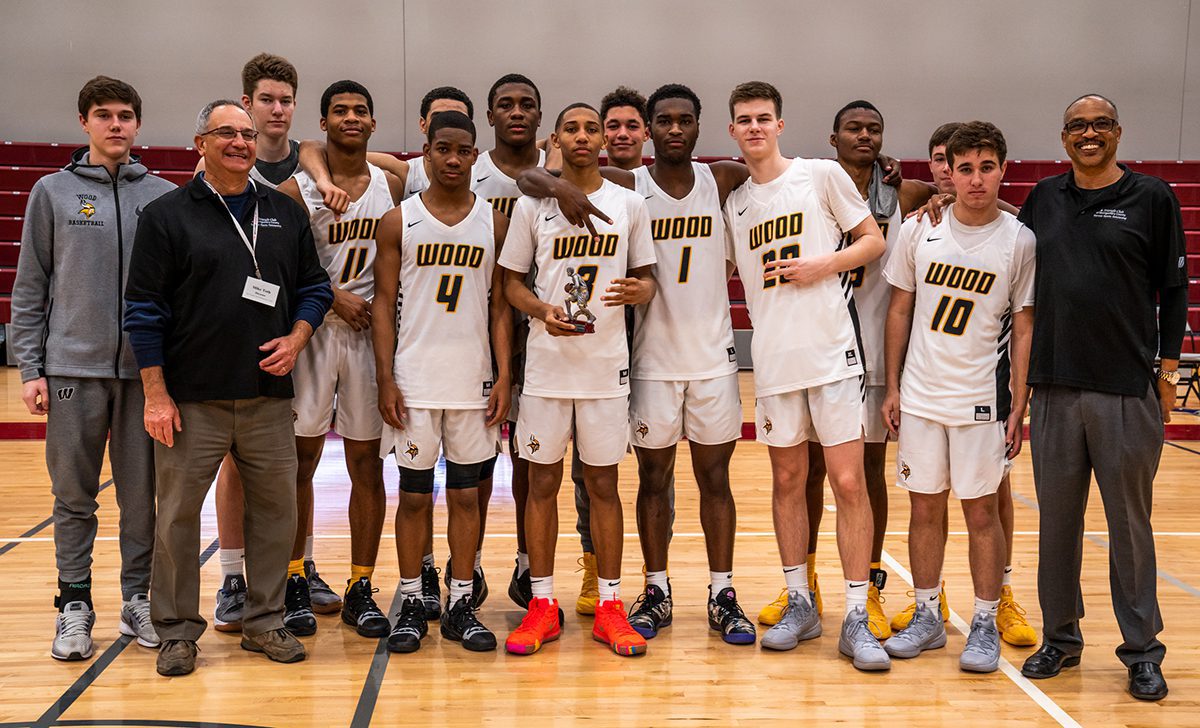 The 45th Annual Triangle Club Basketball Tournament is in the books.
Archbishop Wood (Philadelphia Catholic League) coasted to a big 72-47 victory over West Chester Rustin to win the 2018 tournament. Wood Coach John Mosco's team was expected to be rebuilding this season. But don't tell that to his team made up of one senior, two juniors, 7 sophomores and two freshman. They played like veterans. Sophomore point guard Rahsool Diggins was named tournament MVP.
The Wissahickon Trojans won the consolation game with a come from behind 55-53 win over Episcopal Academy.
For the second straight year the tournament was held at Montgomery County Community College in Blue Bell. After 44 years as a Holiday Tournament this was the first year as a tip-off tournament.
| | |
| --- | --- |
| Archbishop Wood | 54 |
| Episcopal Academy | 41 |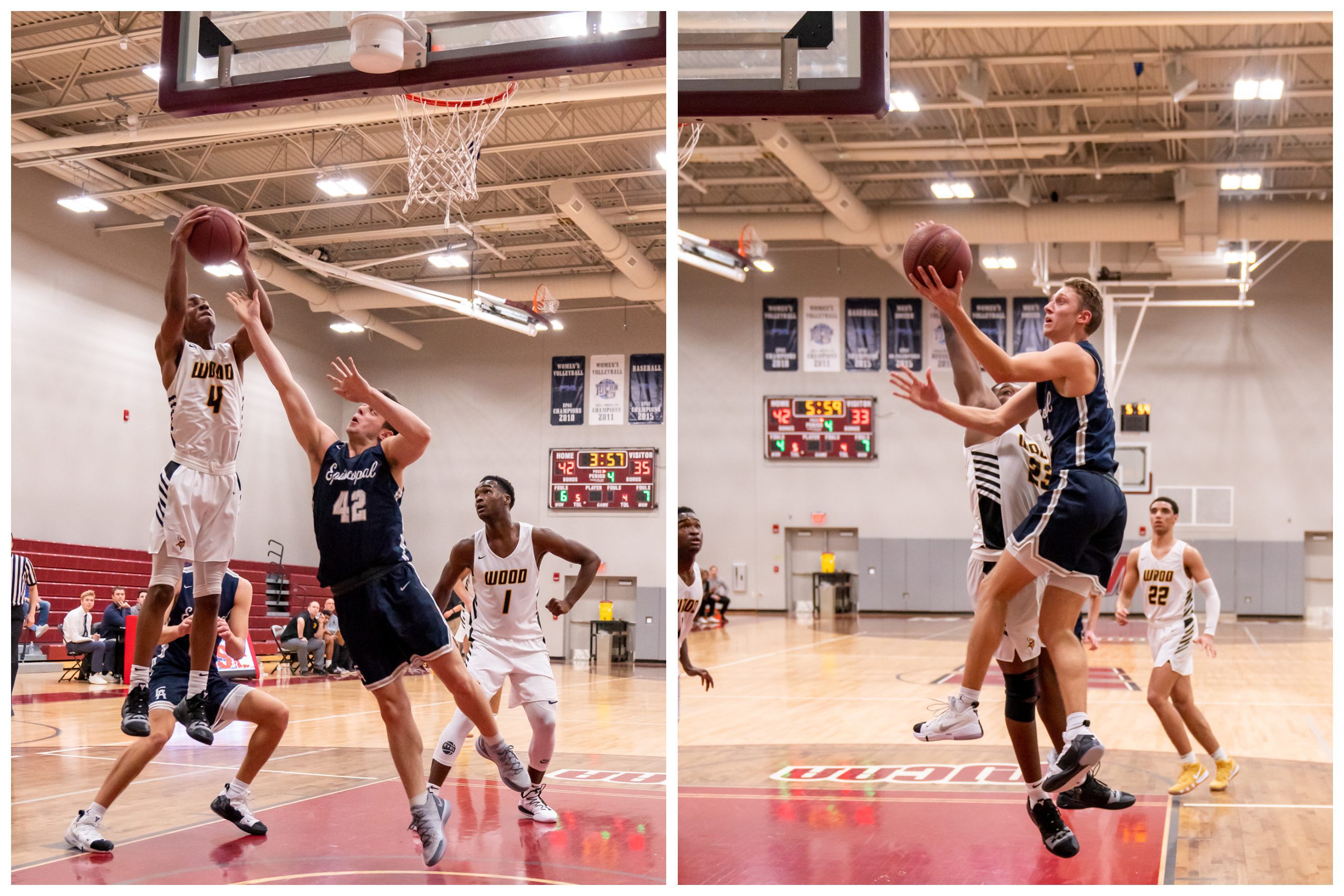 Wood Overcomes 3rd Quarter Push by Episcopal
Friday night's first game matched up two newcomers to the Triangle Tournament. Episcopal Academy came into town with record of 1-1. Coach Craig Conlin has plenty of size on his roster. The Churchmen are led by (6'6″) senior Matt Dade and (6'4″) junior Alex Capitano. They combined for 26 of the teams 41 points in a losing cause.
Archbishop Wood prevailed 54-41. Wood led 29-19 at the half. Episcopal gained some ground in the 3rd quarter, pulling within 6 points, 37-33. But in the 4th stanza Wood picked up the pace. They put on a tight press and forced Episcopal into turnovers. With contributions from sophomore Jalen Stinson, and senior Julius Phillips they tired the Churchmen out. The inside outside combo of (6'4″) sophomore Daeshon Shepherd and lightning quick left handed Rashool Diggins put on a clinic. They seemed to have mastered the alley oop dunk. Diggins gets the assists and Shepherd gets the points. Shepherd ended up with a team high 18. Phillips chipped in with 13 points and Stinson added 11.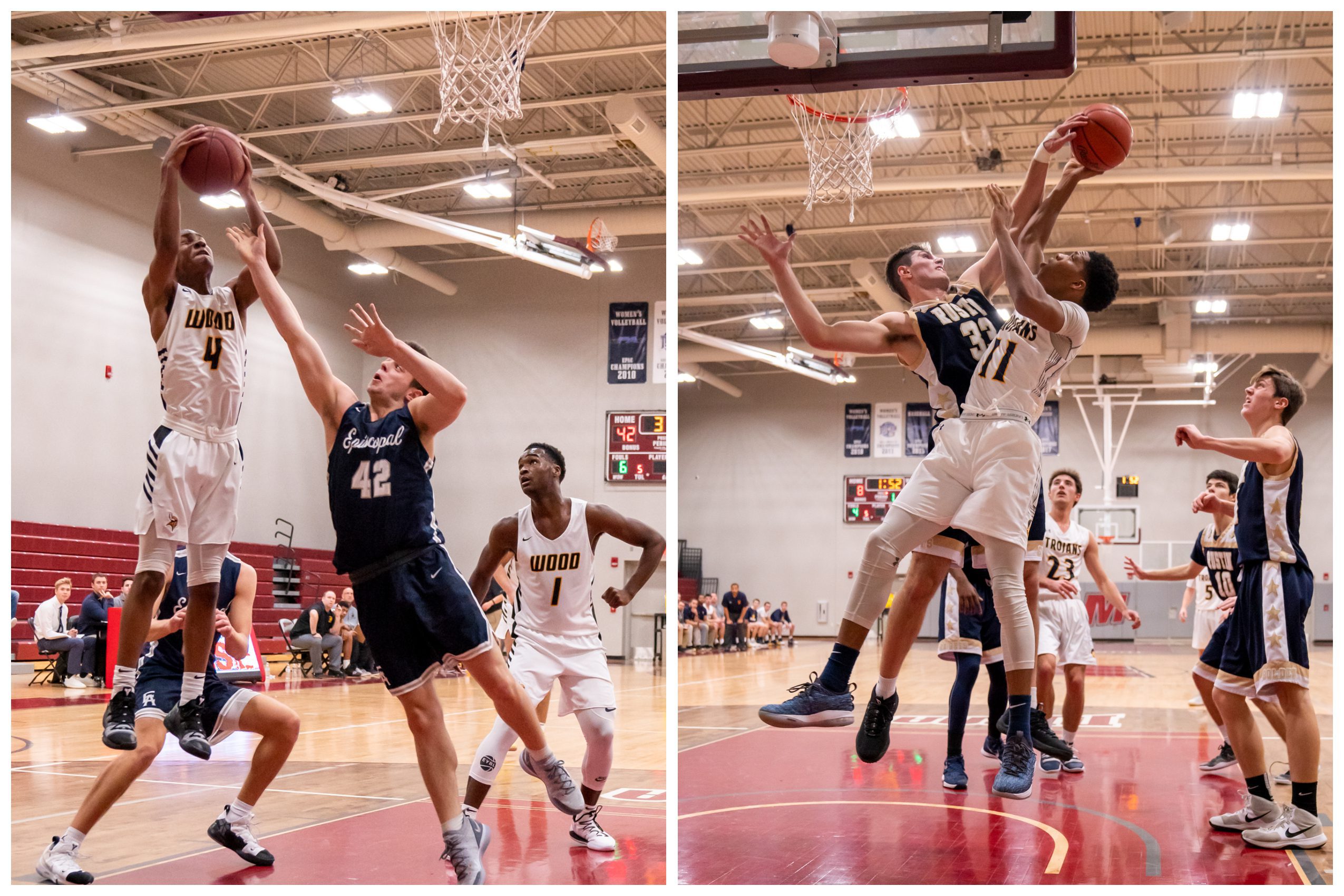 Rustin Holds on to Lead and Defeats Wissahickon
Game two Friday night saw two squads playing their first game for the 2018-2019 season. Coach Kyle Wilson (20th year) brought his Wissahickon Trojans up from Ambler as the most local team in this years tournament. Coach Keith Cochran brought his Rustin Knights up from West Chester. Both squads are rebuilding from participating in the PIAA state tournament playoffs last season.
Rustin jumped out to a 17-10 first period lead. Wissahickon was having trouble stopping big (6'6″) Jake Nelson as he scored 8 points in the first frame. Things tightened up in the second period and Wissahickon pulled within 4 at halftime, down 32-28. The key contributor was off the Trojan bench. Lanky (6'5″) senior Maurice Willis quickly tallied 10 points to get the Wissy fans going. Harrison Williams added two big three point baskets. We have a game.
The third period saw Rustin come out strong from the locker room and get some breathing room. The Knights held a 12 point advantage, 49-37, entering the 4th quarter.
Williams (21 points) continued to hit treys for Wissahickon in the final 8 minutes. Gritty Eddie Fortescue kept the Trojans in the fight. However, Rustin got to the foul line and made 11 of 16 free throws and held on to win 70-61. Flashy freshman guard Argel "Ivy" Pettit led West Chester Rustin with 22 points. Team mate Jake Nelson pulled down a ton of rebounds and dropped in 21 points.
Game 3 (Consolation Game)
| | |
| --- | --- |
| Wissahickon | 55 |
| Episcopal Academy | 53 |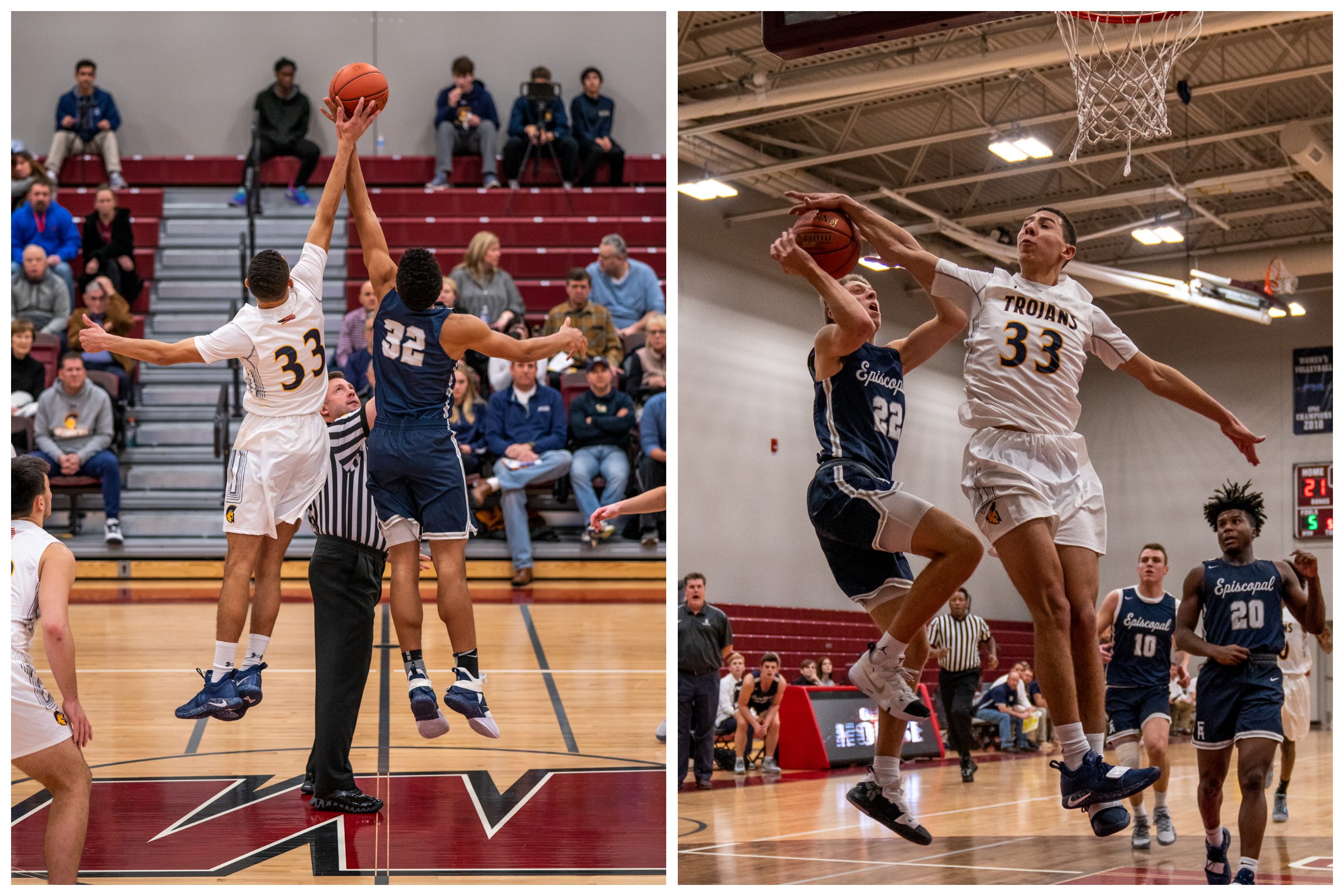 Wissahickon Makes 2nd Half Comeback for the Win
Saturday's consolation game turned out to be the most competitive of the tournament. Episcopal Academy held a 27-19 lead at the half. Wissahickon was having trouble putting the ball in the basket. The only exception was Harrison Williams and his 3 pointers.
Episcopal was led by a balanced attack of Alex Capitano, Matt Dade and Andrew Alikakos, off the bench. It looked like things were going the Churchmen's way, but Wissahickon was not to be denied. Coach Wilson was trying to find the right combination. They fought and clawed and hustled their way back into the game. Wissy outscored Episcopal 16-11 in the 3rd frame. Again, Harrison Williams (14 points) hit a couple of big three point shots.
The final quarter began with Episcopal holding onto a slim 38-35 lead. Then the game turned into the Eddie Fortescue show. The great soccer player did some dazzling foot work and drove inside and tallied 6 field goals for the Trojans in the 4th quarter. He left it all on the court and finished with 19 points. Wissahickon won 55-53. The hometown fans loved it. Craig Conlin's Churchmen were led by Alikakos (14 points), Capitano (13 points) and Dade (12 points).
| | |
| --- | --- |
| Archbishop Wood | 72 |
| West Chester Rustin | 47 |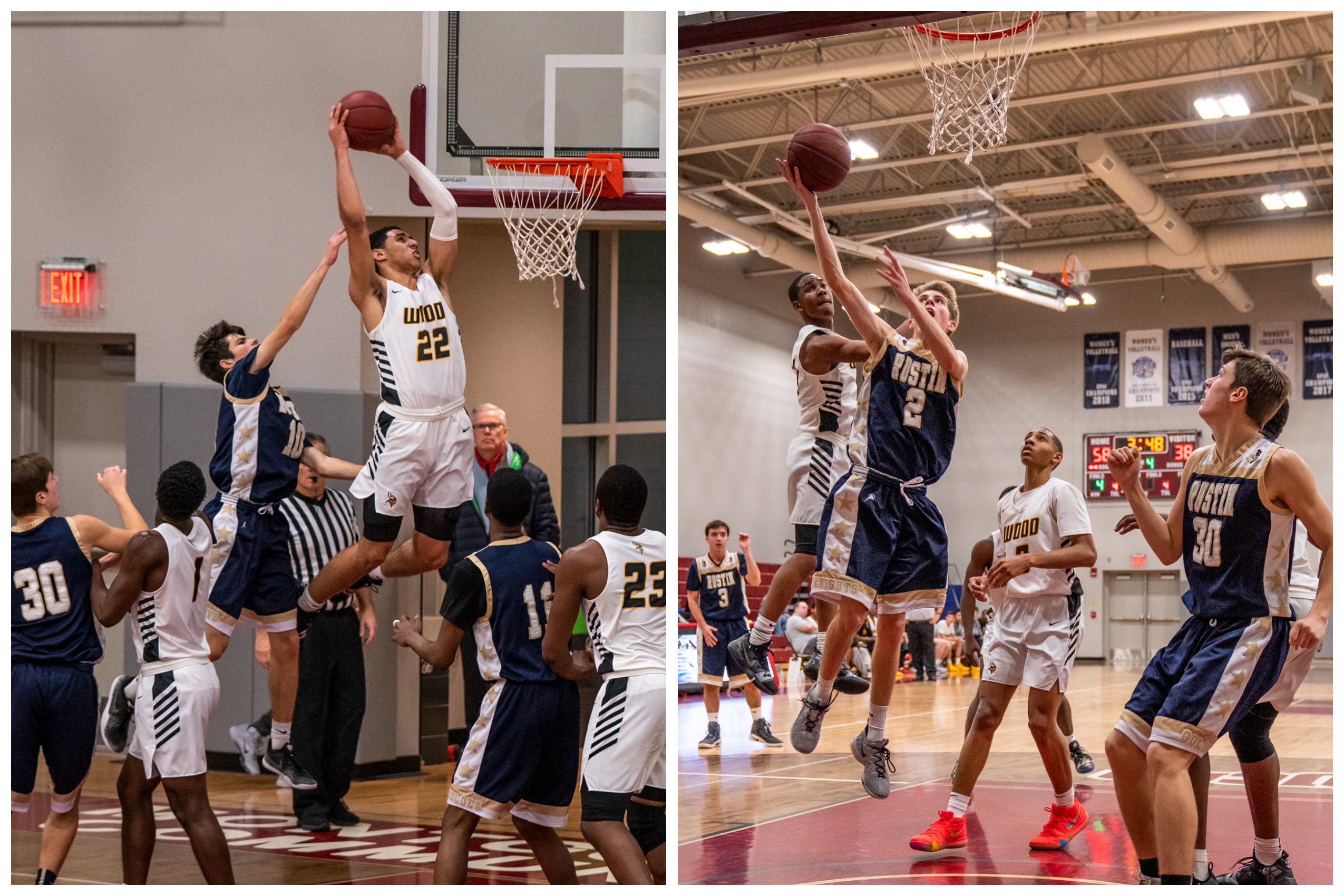 Wood Keeps on the Gas to Win the Championship
The 2018 Triangle Tournament championship game matched Archbishop Wood against West Chester Rustin. All signs indicated a tight contest.  Wood opened the game with plenty of adrenalin and just kept going and going.  Wood was up 14-7 after the first frame. Good team work and heady play. Guard Ivy Pettit (11 points) was the only Rustin player who could keep up with Wood. 
Wood pulled ahead 38-19 at the half. Wood put up a very balanced scoring attack with all 5 starters contributing. The height advantage Rustin had on Friday night was negated by Wood's size and speed.  Every time Rustin was able to get the ball inside to (6'6″) Jake Nelson (9 points), Wood defenders bottled him up. And Rustin's outside shots were not falling.
Wood won the championship game 72-47. Sophomore Rashool Diggins played a great floor game and also led the Wood squad with 20 points.  Diggins earned the tournament MVP award. Other key contributors were a trio of sophomores, Daeshon Shepherd (12 points), John Donohue (9 points) with 3 treys and Jalen Stinson (9 points). John Mosco's team may be young, but Wood may surprise a few teams in the Catholic League this season.

Thanks to everyone who helped make the Triangle Club's 45th Annual Tip Off Basketball Tournament a success.  Each year, through our tournament, the Triangle Club raises money to support our scholarship program.  This would not be possible without the participation of these fine teams, as well as the support of our fans, the community, and our tournament sponsors.  The Triangle Club thanks you all and looks forward to seeing you at next year's tournament.