48th ANNUAL TOURNAMENT
– 2022 RECAP –
by: Mike Toth
For the second year in a row The LaSalle Explorers are the champions of the Triangle Club's Tip Off Basketball Tournament. LaSalle College High School beat Norristown 49-37 in Saturday's championship game.
The 48th Annual Tournament was held on the Wissahickon hardwood. With four local schools participating each team had great fan support.
The two day tournament began Friday December 2nd. The first matchup pitted defending tournament champ LaSalle against Germantown Academy. Coach Mike McKee's Explorer's return a couple key contributors from last season's 15 win squad. That includes Drexel recruit Horace Simmons. The 6'7″ senior won this year's MVP trophy. Germantown Academy, under 4th year coach Matt Dolan, has a couple of returning players but is loaded with a roster of 8 sophomores. The scrappy Patriot's put up quite a fight against the Explorer's. The game went back and forth with LaSalle holding onto a 22-18 halftime lead. Germantown Academy had a slim 30-29 lead at the end of the 3rd period. In the fourth quarter LaSalle made 12 of 15 free throws to seal the 48-44 victory. Horace Simmons paced LaSalle with 17 points and 10 rebounds. Lightning quick sophomore guard Bryce Rollerson was quite impressive and scored a game high 27 for Germantown Academy.
In the night cap of Friday's tournament host Wissahickon played rival Norristown. Wissahickon's long time coach Kyle Wilson was matching up against new Norristown coach Rick Bell for the first time. Wissahickon will be counting on returning all-league senior guard Earl Stout to run the show. The Norristown Eagle's have new look under a new coach and lost 7 seniors from last years squad. Norristown won 16 games and made a nice run in last year's District One playoffs. Both teams started the game quite slow. The Wissahickon Trojan's found themselves down 21-15 at halftime. They were relying on the 3 point shot from their backcourt players. Meanwhile, Norristown was trying to bang the ball inside to take advantage of their bigger size. Things heated up in the 3rd period. Miles Daniel's had the hot had for Norristown tossing in 10 points. Held scoreless in the first half, Wissahickon's Earl Stout canned 7 point of his own.
Each team scored 18 points in the third frame as Wissahickon was hanging tough. But in the fourth quarter Norristown pulled away with it's balanced scoring attack. The Eagle's tossed in another 21 points and Wissahickon couldn't keep pace.
Norristown pulled away with a 60-46 victory.
A number of costly turnovers hurt the Trojan's chances. Senior forward Jonathan Brooks played a monster game for Norristown scoring 18 points and grabbing 11 rebounds. Brooks was supported by teammates Myon Kirlew's 11 points, Jayden Byrd's 10 and Miles Daniels' 10.
Stout and teammate Jaylon Williams led Wissahickon with 15 points apiece.
Saturday's consolation game saw Germantown Academy guard Bryce Rollerson pick up where he left off Friday. Bryce canned 7 field goals and went 11 of 14 from the charity stripe to score 25 points to help lead The Patriot's to a hard fought 61-54 win over Wissahickon. Bryce got some better support from his teammates in this game with fellow sophomore Ellis Johnson scoring 13 points. Germantown Academy led 27-22 at the half. Wissahickon got a big game from Jaylon Williams tossing in 23 points including 4 three point baskets. Earl Stout chimed in with 15. Wissahickon Coach Kyle Wilson had to be pleased with this teams improved performance as the tournament unfolded. Likewise with Germantown Academy coach Matt Dolan.
Coach Dolan smiled when told flashy sophomore guard Rollerson had a two game total of 52 points.
The 48th Annual Triangle Club Tournament championship game was a rematch of last years championship game. The LaSalle Explorers versus Norristown Eagles. Scrappy defense sums up the game's description. LaSalle prevailed 49-37. Coach Mike McKee's Explorer's led 27-12 at the half. Tournament MVP Horace Simmons was dominant inside for LaSalle tallying 17 points in the first half. Rick Bell's Norristown squad was not about to roll over. The Eagle's finally found the hoop and tallied15 points in the 3rd period to close within 35-27. However, LaSalle held the Eagle's off outscoring them 14-10 in the final frame and walk away with the first place trophy. Simmons led LaSalle with a game high 21 points. Myon Kirlew had another good game for the Eagle's and led Norristown with 14 points. Andre Gordon and Jayden Byrd added 9 and 8, respectively.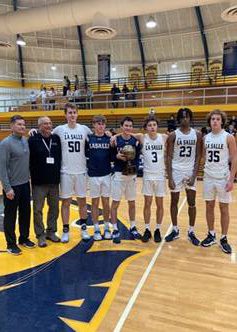 2022 Tournament Winner: La Salle