TOURNAMENT RECAP
by: Mike Toth
TOURNAMENT RECAP
by: Mike Toth
The Bishop McDevitt Lancers won the 2017 Triangle Club Basketball Tournament with a convincing 65-51 victory over the Norristown Eagles.
This 44th Annual Holiday Tournament was a tournament of 'Firsts". It was the first time that Bishop McDevitt won the tournament. It was the first time a sophomore (Lancer guard Robert Smith, Jr.) won the MVP award. It was the first time the tournament was held at Montgomery County Community College.
The 2017 Triangle Club Basketball Tournament featured 4 teams from Montgomery County who are in a rebuilding mode.  Two time defending champion Father Judge chose not to participate and try for a trifecta.  Bishop McDevitt (Philly Catholic League) took Judge's place and entered the tournament with an unblemished 7-0 record. Under first year coach Will Chavis, their roster contains 13 underclassmen. The Norristown Eagles (3-3) are also playing under a first year head coach. Dana "Binky" Johnson assisted the Norristown program a few years back and finally holds the reigns. His young Eagles are playing without the services of leading scorer Mikeel Allen who is nursing a leg injury. Hatboro-Horsham (3-3) graduated 5 key players from last season's district playoff team.  Veteran coach Ed Enoch has some players with size and football quarterback Chris Edwards (6'2″ Sr.) leads the Hatters. Coach Jason Quenzer and the Upper Merion Vikings (1-6) are in the midst of a major rebuild. They graduated their full 2016-17 roster, all 10 players.  Last year's squad made it deep into the District One playoffs.
Bishop McDevitt    65
Upper Merion         36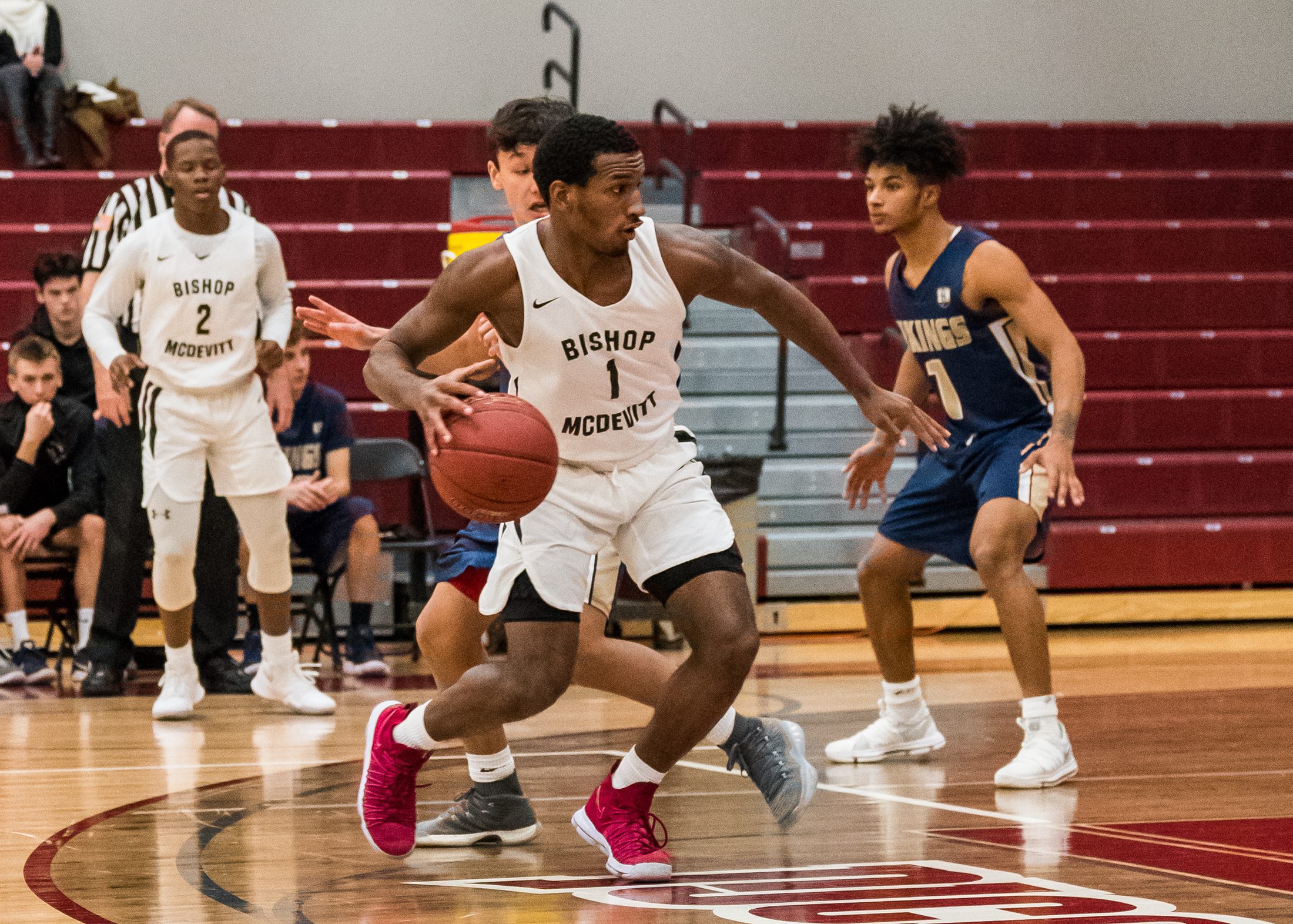 Upper Merion overpowers Bishop McDevitt
The first night opening game started with a fury.  Bishop McDevitt jumped out to a 16-4 first quarter lead over Upper Merion. Sophomore guard Robert Smith, Jr. tallied 8 points in the first frame.  At halftime, the Lancers size and speed held a commanding 31-11 lead.  McDevitt had their way throughout and put 13 players in the scoring column.  McDevitt coach Will Chavis played his college ball for legendary Bobby Knight at Texas Tech. Will is passing his acumen onto his young squad. Smith paved the way with 15 points. Another sophomore, Jamil Manigo (6'2″) added 12 points. Ty Jay Shepherd led the Upper Merion Vikings with 10 points.  The final score was McDevitt 65 and Upper Merion 36.
Norriston                       48
Hatboro-Horsham        44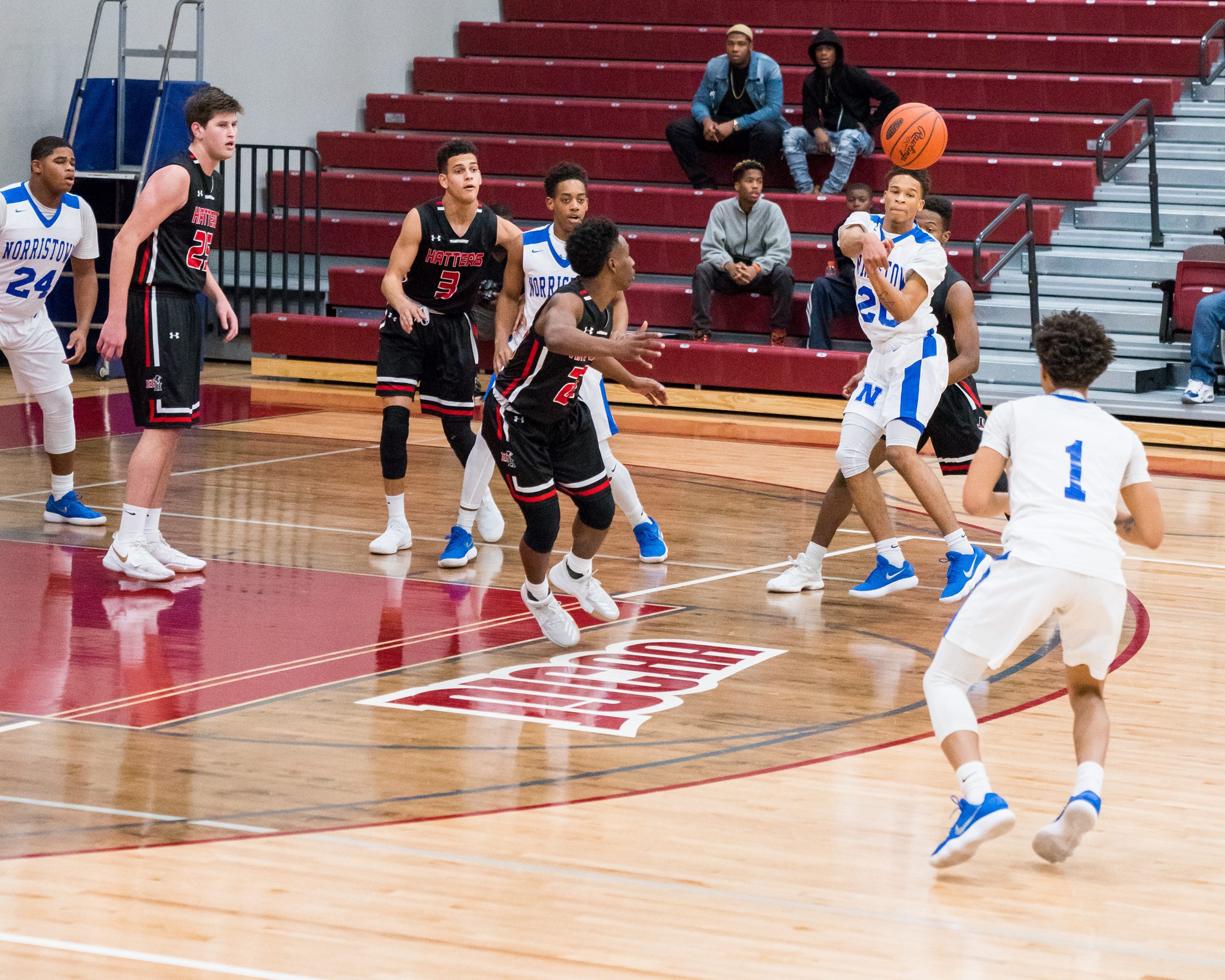 Hatboro-Horsham edges win over Norristown
The night cap featured Norristown (PAC-10) against the Hatboro-Horsham Hatters (Suburban One). The first period ended knotted at 15.  Norristown built up a halftime lead of 24-19.  Guard Khalif Johnson (5'10") came alive for Hatboro in the 3rd frame scoring 9 points.  Hatboro tied Norristown at 33.  The 4th quarter saw a couple of Norristown forwards, Darius Hopewell (6'6″) and Tyler Tate (6'3″), control the paint and the glass.  Norristown point guard Vernon Tubbs (5'7″ Jr.) ran the show and tossed in seven 4th quarter points.  Senior Mike Dorman made 4 critical free throws to help the Eagle's pull out a tough 48-44 victory.  This was truly a team effort with Tubbs leading the scoring with 14 points. Hatboro's Johnson led all scorers with 16 and teammate Jake Schalki (6'3″ Jr) added 12 points.
Game 3 (Consolation Game)
Hatboro-Horsham        39
Upper Merion                36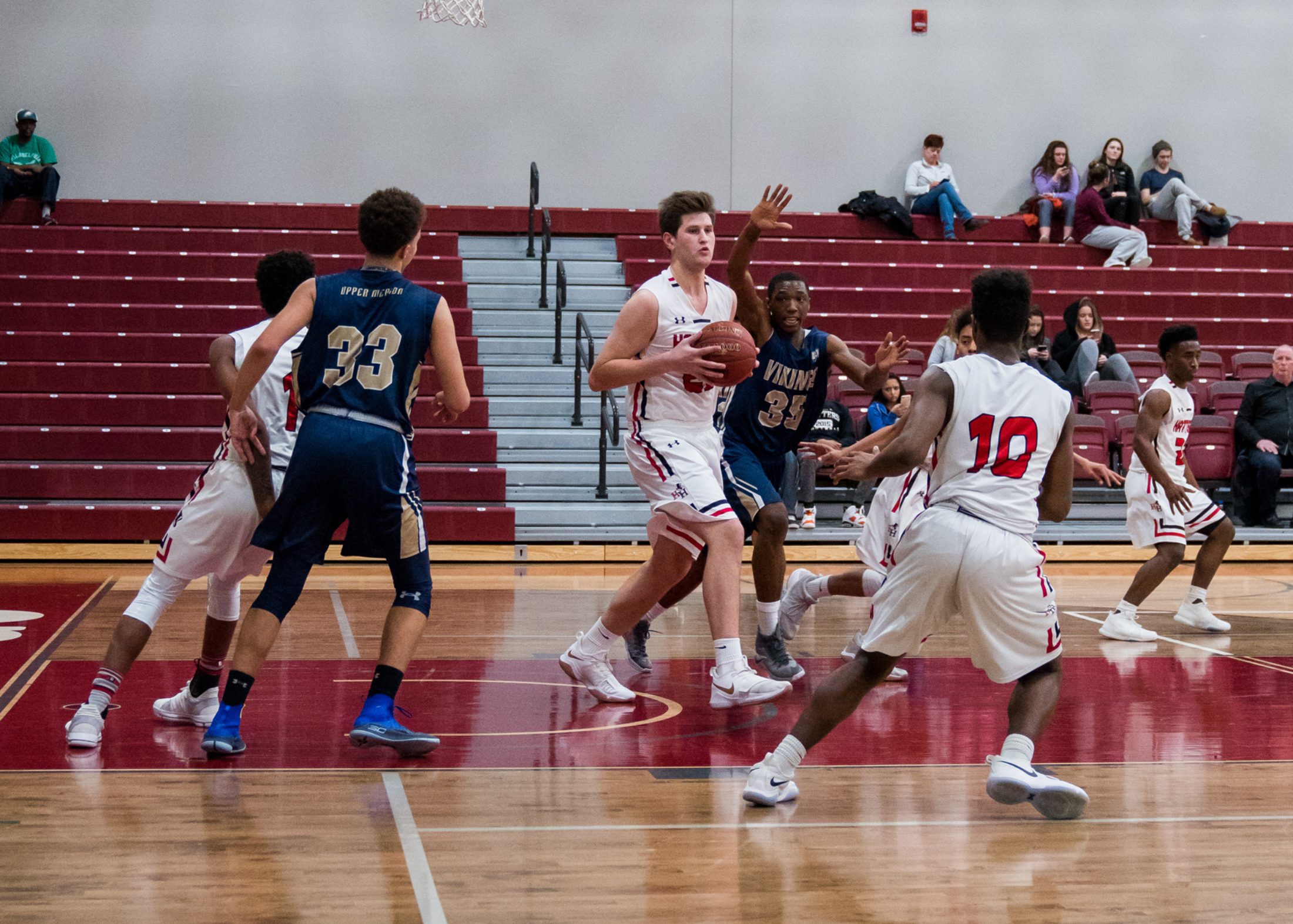 In the consolation game, Hatboro-Horsham defeated Upper Merion, 39-36, to finish third in the tournament Friday night.
The 2nd night consolation game matched up Hatboro-Horsham against Upper Merion.  Upper Merion was slow out of the gate and was trailing 33-20 entering the 4th period.  Coach Quenzer rolled the dice and put on a full court press against Hatboro.  Suddenly, Hatboro was turning the ball over and Upper Merion was scoring on layups.  The Vikings outscored the Hatters 16-6 in the 4th quarter.  The Vikings had the ball will just under 10 seconds left in the game but could not connect on their final possession.  Hatboro held on for a 39-36 win.  After 7 quarters of basketball, Upper Merion finally showed some energy to carry over into future games.  Freshman guard Lucas Kim (5'9″) came off the bench and scored 10 points for the Vikings.  K.J. Pugh (6'4″) added 9 points.  Solomon McNair led the victorious Hatters with 11 points.  Khalid Johnson and Kyle Hogan (6'5″ Sr.) both chipped in with 8 points.  Hatboro coach Ed Enoch breathed a big sigh of relief.
Bishop McDevitt          65
Norristown                   51
Bishop McDevitt wins Triangle Club Tournament over Norristown
The 2017 Triangle Club Basketball Tournament Championship game pitted Bishop McDevitt against Norristown. Many fans anticipated the guard match-up of McDevitt's Robert Smith, Jr. (5'11" So.) and Norristown's Vernon "Man-Man" Tubbs (5'7″ Jr.). The first half was pretty even.  McDevitt led 27-23 as the teams went into the locker rooms at halftime.  Forward Cameron Gardner (6'5″ Jr.) had 7 first half points to pace the McDevitt Lancers.  Smith had 6 points.  On the Norristown ledger, Vernon Tubbs was held scoreless.  Tyler Tate (6'3″ Sr.) and Tyler Lyons (5'10" Jr.) each had 7 points. Norristown coach "Binky" Johnson settled Vernon Tubbs down and built up his confidence.  Tubbs exploded with 15 second half points, including a perfect 5 for 5 from the charity stripe.  But Robert Smith, Jr. and Jamil Manigo picked up the tempo for McDevitt as they methodically pulled away from the Eagles.  McDevitt outscored Norristown 22-15 in the 3rd quarter and held a 49-38 lead.  Smith put on a very strong show in the 4th period when he scored 10 of his game high 20 points.  McDevitt walked off, no make that ran off, with a 65-51 championship victory.  Joining Smith in double digit scoring for McDevitt was Manigo and Seneca Willoughby (6'0" Jr.), with 13 and 10 respectively.  Jamil Manigo (6'2″ So.) also played a very strong inside game.
Another tournament first occurred when two previous Norristown MVP's, Khalif Wyatt (2007 and 2008 MVP) and Derrick Perry (1992 MVP) presented the MVP trophy to McDevitt's Robert Smith, Jr.
Another Side Note:  Not one 3 point field goal was made in this year's 44th Annual Holiday Tournament.  That may be another tournament first since the 3 point shot was put into play in high school basketball back in May of 1987.
2017 Tournament Sponsored by: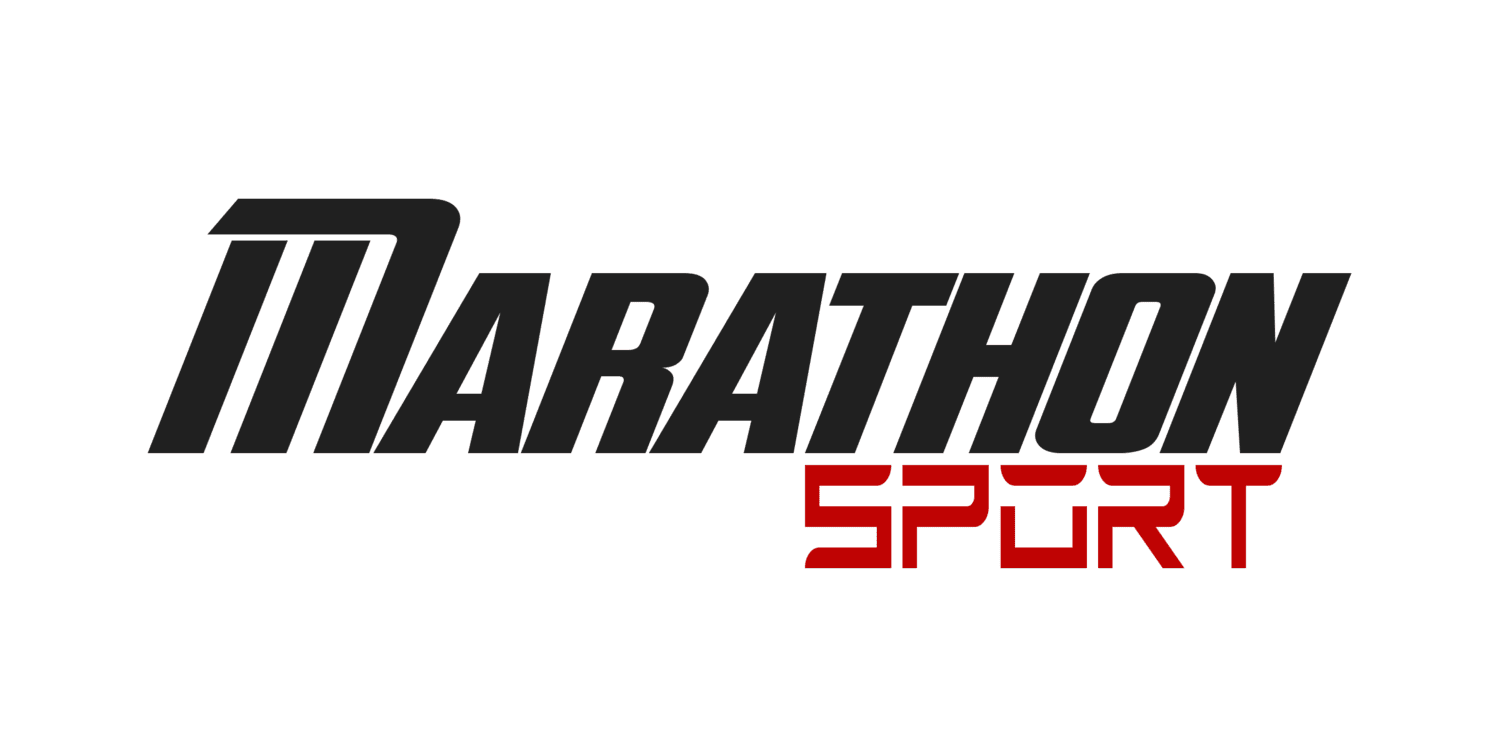 Thanks to everyone who helped make the Triangle Club's 44th Annual Holiday Basketball Tournament a success.  Each year, through our tournament, the Triangle Club raises money to support our scholarship program.  This would not be possible without the participation of these fine teams, as well as the support of our fans, the community, and our tournament sponsors.  The Triangle Club thanks you all and looks forward to seeing you at next year's tournament.
<iframe width="560" height="315" src="https://www.youtube.com/embed/TDEOdz7rhJE?rel=0" frameborder="0" gesture="media" allow="encrypted-media" allowfullscreen></iframe>